Belize profile - Overview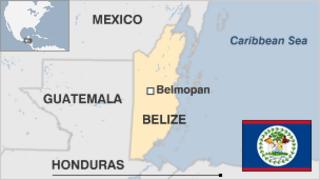 Formerly known as British Honduras, Belize was the UK's last colony on the American mainland and still maintains strong ties with Britain.
It did not attain independence until 1981, when it became a Commonwealth realm with the British monarch as its head of state. English is still the official language, although Spanish is the most commonly spoken first language.
Although Belize is distinguished from its neighbours in being the only country in the region with a British colonial heritage, it also has strong ties to Latin America as well as to the Caribbean.
Its society is highly diverse in terms of culture and language. The biggest single ethnic group are the Mestizos, who are of mixed Maya Indian and Spanish ancestry.
There are also Creoles, who speak a dialect of English and are often of African and African-European extraction, and Garifuna, who are descended from Carib Indians and Africans, as well as a number of smaller ethnic groups.
The number of Mestizos increased significantly during the 1980s as a result of conflicts in El Salvador, Guatemala and Honduras, which triggered an influx of refugees to Belize.
Belize's independence was delayed by a long-running border dispute with Guatemala, which refused to recognise its neighbour's independence until 1992. The two countries have yet to settle the territorial issue, which has its roots in the colonial era.
Narcotics
In addition to its strong ties with Britain and the United States, Belize has recently also forged closer links with Latin American countries such as Mexico and Venezuela.
In common with many Caribbean economies, the service sector has overtaken agriculture, fishing and forestry.
Tourism is a major source of foreign currency. Belize's attractions include wildlife, Mayan ruins and one of the longest barrier reefs in the world. More than 200 islands nestle inside the reef.
Cruise ship arrivals have seen a massive increase in recent years. But tourism has its price; among the challenges facing Belize is the threat to the habitats of its mammals and birds.
Also, Belize has a problem with violent crime, much of it drug-related, and the trafficking of narcotics to the US. In 2011 Belize was added to a US blacklist of countries considered to be major producers or transit routes for illegal drugs.