Nicaragua ex-Contra leader Adolfo Calero dies aged 81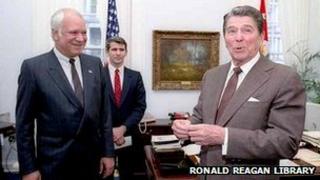 The former leader of the Contra rebels in Nicaragua, Adolfo Calero, has died aged 81.
In the 1980s Mr Calero led the largest faction fighting Nicaragua's left-wing Sandinista government.
He was responsible for managing the US-backed rebels' finances and buying weapons.
In 1987 he testified before the US Congress about the Iran-Contra scandal that shook the administration of President Ronald Reagan.
Mr Calero, a businessman and conservative politician, had recently been suffering from pneumonia and kidney failure and died in hospital in the capital, Managua.
As a young man he studied in the US and began his career managing a Coca-Cola bottling plant in Managua.
But when the left-wing Sandinista revolutionaries forced the Somoza dictatorship from power in 1979, he decided to take up arms, becoming leader of the rebels fighting the first government of Daniel Ortega.
Mr Calero was in charge of the rebels' bank accounts and responsible for buying weapons and supplies used in fighting the Sandinista Army.
While Cuba was supporting Mr Ortega's government, the Contras were receiving illegal payments from the US via secret sales of military equipment to Iran.
In 1987, Mr Calero testified before the US Congress after investigations revealed that White House aide Col Oliver North had organised a clandestine network to support the Contra rebels.
In the 1990s Mr Calero became president of the Conservative Party of Nicaragua and later an ally of the Liberals.
However, the fight against the Sandinistas defined his life and last year he published a book detailing his involvement with the Contras.