Rio peace race retraces favela drug lords' escape route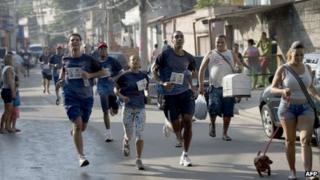 Police officers and celebrities in the Brazilian city of Rio de Janeiro joined about 1,500 residents in a race through a shantytown to celebrate peace.
The Challenge for Peace retraced the route used by drug traffickers to escape the Alemao favela when police moved in in November 2010.
Even former drug gang members took part in the 5km (3 mile) run through the favela's narrow streets.
For decades, the shantytown was a no-go zone for the police.
But among those who joined the race on a hot and sunny morning was the public security secretary for the state of Rio de Janeiro, Jose Beltrame.
Security
One of the organisers of the event, Luiz Fernando, said it "lifts the self-esteem of a community that used to live amid a great deal of violence".
Mr Fernando is one of the founders of AfroReggae, a cultural NGO that has mediated in conflicts between the police, the drug gangs and favela residents.
The race winner, Valerio de Souza, said he will use the prize money - some 7,000 reais (£2,200; $2,500) - to help his family.
This is the third time the race has taken place in the Complexo do Alemao, a vast area of interconnected slums once ruled by some of the most powerful drug gangs in Brazil.
Security became a top priority in Brazil after the country won the right to host the 2014 football World Cup.
The final match will played in Rio's Maracana stadium, not far from the shantytown.
The city will also host the 2016 Olympics.
In 2009, the authorities in charge of the city and the state of Rio de Janeiro launched their programme of "pacification" of the city's favelas.
Police officers, backed up by army troops and tanks, moved into the favelas, facing little or no resistance.
In most cases, the drug traffickers ran away before the day announced for the security operation.
Many of the largest slums in Rio are now under police control.
The programme has the backing of most residents, who were often caught up in violent clashes between the drug lords and the police.
But critics say the "pacification programme" led to the spread of violence to other parts of the city.