Brazil cuts more taxes to revive economic growth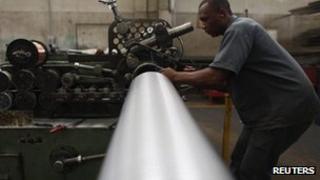 Brazil's government has unveiled a new stimulus package to boost the automotive and other manufacturing sectors, amid concerns over growth.
Finance Minister Guido Mantega said Brazil was well placed to withstand global problems but admitted it would be hard to hit 4.5% growth this year.
The package includes tax cuts worth some $1bn (£632m).
President Dilma Rousseff has meanwhile said Brazil is "300% prepared" to weather the crisis in the eurozone.
The measures announced on Monday include a temporary tax reduction on some car sales as well as an easing of terms for customers seeking car loans.
The automotive sector accounts for about 20% of Brazil's industrial GDP.
Mr Mantega also announced interest rate cuts for industries buying capital goods, part of government attempts to re-equip and update Brazil's manufacturing base.
Brazil, long lauded as a booming economy that expanded at 7.5% in 2010, has stuttered over the past year.
All emerging markers were being hit by the global economic and financial crisis, Mr Mantega said.
"If they don't fix the problems in Greece, it will certainly be difficult for us to reach a 4.5% growth rate this year," he told a news conference.
"But Brazil is in a position to react to the crisis and keep growing. I wouldn't say at 4.5% but to grow more than the 2.7% we had last year."
Sixth biggest
His words echoed those of President Rousseff who earlier on Monday stressed that the South American nation could cope with the knock-on effects of the eurozone's problems.
"We will resist the crisis by creating jobs, by investing in infrastructure and social activities," she said.
In March, Brazilian officials announced that the country had overtaken the UK to become the world's sixth biggest economy.
But high taxes and labour costs have made local industries increasingly uncompetitive.
The government has launched several stimulus packages in recent months but figures indicate that growth contracted in the first three months of 2012.
Brazilian officials have welcomed a drop in the value of the currency, the real, which is down some 8.8% against the US dollar so far this year.