Ex-Fifa boss Joao Havelange leaves hospital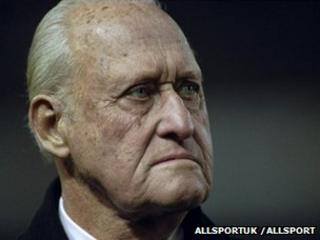 Former Fifa president Joao Havelange has been discharged from hospital in Brazil after recovering from a serious infection.
The 96-year-old was taken to hospital in Rio de Janeiro two months ago with septic arthritis in his ankle.
Mr Havelange later developed heart and breathing problems, and on several occasions went into intensive care.
He led the world football governing body from 1974 to 1998, when he was replaced by Sepp Blatter.
Doctor Joao Mansur Filho, from Samaritano Hospital, said in a statement that "favourable cardiac and respiratory conditions allowed the patient to be released."
Doctors from one of Rio's top hospitals said his health began to improve two weeks ago.
Global sport
During his six terms in office, Mr Havelange oversaw the transformation of football into a global, lucrative sport.
He is credited with encouraging the development of the sport in new markets, such as Africa, Asia and the United States.
Before that, he led Brazilian football in its most successful period.
Mr Havelange was president of the Brazilian football confederation when the country won its first three World Cups in 1958, 1962 and 1970.
Mr Havelange, who took part in the 1936 Olympics as a swimmer, is also a former member of the International Olympic Committee.
At the end of last year, he resigned from the IOC for undisclosed health reasons.
The decision was announced days before an ethics hearing into his conduct.
He had been facing suspension over his involvement with Fifa's former marketing agency International Sport and Leisure.
The case was closed after his resignation.
Mr Havelange is the former father-in-law of Ricardo Teixeira, who resigned as head of Brazilian football in March over corruption allegations.