Haiti holds dozens of ex-soldiers for pro-army protests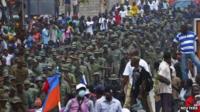 Dozens of Haitian ex-soldiers have been arrested after a series of protests calling for the disbanded army to be restored, officials say.
They were charged with forming a rogue army and violating orders to take off their uniforms and give up their weapons, Reuters reported.
Several alleged supporters, including two Americans, were also detained.
The protesters want President Michel Martelly to keep his promise to revive the army, which was dismantled in 1995.
Several thousand ex-soldiers demonstrated on Friday and Saturday to call for the return of the armed forces.
On Sunday, the authorities announced that 59 people had been arrested, according to Reuters.
Among them were two US citizens, Jason William Petrie from Ohio and Steven Parker Shaw from Massachusetts, who were accused of providing logistical support for the protesters, officials said.
Mr Petrie told the Associated Press from jail that he was friends with the leaders of the would-be soldiers.
Instability
In recent weeks, former troops have been training and have occupied former military bases.
They have been wearing military-style uniforms and carrying weapons.
President Martelly supports the idea of reviving the army, arguing that Haitians would prefer to be protected by their own forces rather than the current UN peacekeepers.
The UN and international donors have expressed concern that such a move could damage efforts to set up a new civilian police force.
The Haitian army was long associated with human rights abuses and coups.
It was abolished in 1995 by then-President Jean-Bertrand Aristide, who had been overthrown in 1991 and returned to power three years later.
But political turmoil continued in the ensuing years and since 2004 the UN's stabilisation mission, Minustah, has operated in the country.