Fourth Mexican army officer held in drug cartel probe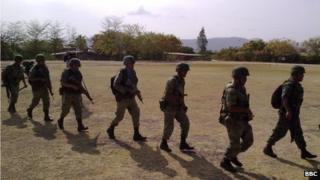 A fourth high-ranking Mexican army officer has been arrested for possible links with a drug trafficking cartel.
Mexico's defence department announced that Lt Col Silvio Hernandez Soto had been detained for questioning.
Three generals, including a former deputy defence minister, have been arrested since Tuesday as part of an ongoing investigation.
They are accused of involvement with the Beltran Leyva cartel - charges the generals deny.
After retiring from the army in 2002, Col Hernandez Soto became a senior police commander in Sinaloa state, in Mexico's Pacific coast.
The defence department says the investigation against him and the three generals was based on a case from 2009.
Gen Tomas Angeles Dauahare and Gen Roberto Dawe Gonzalez were taken in for questioning on Tuesday.
A judge has put them under house arrest for 40 days, while the investigation proceeds and prosecutors prepare their case.
A third general, Ricardo Escorcia Vargas, was detained on Thursday.
They are suspected of involvement with the Beltran Leyva cartel, an organisation that has smuggled cocaine, heroin and other illegal drugs into the United States.
Mexico's powerful drug cartels have been under systematic attack since President Felipe Calderon launched a war on drugs six years ago.
The army has played a key role in that effort, with troops deployed across the country.
Drug-related violence since 2006 has killed more than 50,000 people in Mexico.
Strategic positions
The three generals detained this week have all occupied strategic posts in Mexico's anti-drugs effort.
Gen Angeles was assistant defence minister from 2006 to 2008, when he retired - a decision which surprised Mexican commentators.
Gen Dawe was the commander of an army division in Colima state, in Mexico's Pacific coast, an important trafficking route.
Gen Escorcia was in charge of the military in Morelos state, the command centre of the Beltran Leyva cartel.
A statement from the attorney general's office says several witnesses have already testified against the generals.