Repsol fails in first attempt to find oil off Cuba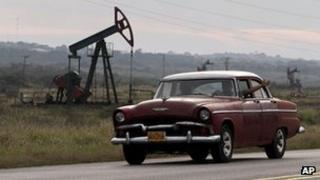 Spanish oil company Repsol has announced a first attempt to find oil in Cuban waters has failed.
Repsol spokesman Kristian Rix said an exploratory well it drilled some 50km (31 miles) off Cuba was unsuccessful and would be abandoned.
But he said it was too early to say whether the whole project would be called off.
Mr Rix says Repsol is assessing the data to determine what steps to take next.
"It is not uncommon to strike out with offshore wells, and four out of five are dry," he said.
Cuba produces only half of the oil it needs.
It relies on subsidised imports from the friendly government of President Hugo Chavez in Venezuela for its energy needs.
The island imports more than 100,000 barrels a day at favoured rates, paid for with the services of thousands of doctors and health workers working in Venezuela.
The BBC Havana correspondent, Sarah Rainsford, says that finding substantive offshore reserves of its own would break that dependence.
"Today we have strong relations with Venezuela and that's good for Cuba," says Juan Triana, of the Centre for the Study of the Cuban Economy.
"But if this relationship did not work in the future, that would be a very dramatic position."
Drilling in Cuba's northern coast began some three months ago.
The Scarabeo 9 oil was brought all the way from China, to bypass the American trade embargo imposed on the communist island five decades ago.
Repsol is the first company to explore. It is leasing the rig for $500,000 (£320,000) a day.
Preliminary studies of the rock formation beneath Cuban waters suggest there are considerable deposits to discover - anything from five billion to 20 billion of barrels of oil.
That would make Cuba a net energy exporter.