Mexico profile - Overview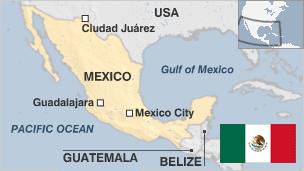 Mexico is a nation where affluence, poverty, natural splendour and urban blight rub shoulders.
Its politics were dominated for 70 years by the Institutional Revolutionary Party, or PRI. But elections in 1997 saw a resurgent opposition break what was in effect a one-party system behind a democratic facade.
Elections in 2000 confirmed the trend when Vicente Fox became the first president to come from the right-wing opposition PAN.
Mexico has the second-largest economy in Latin America and is a major oil exporter. Though production has fallen in the last few years, about one-third of government revenue still comes from the industry. Much of the crude is bought by the US.
But prosperity remains a dream for many Mexicans, and the socio-economic gap remains wide. Rural areas are often neglected and huge shanty towns ring the cities.
In recent decades many poor Mexicans have sought to cross the 3,000-km border with the US in search of a job. At one point more than a million were being arrested every year
But since 2007 there appears to have been a dramatic fall in numbers, mainly attributed to changing demographics in Mexico and the economic downturn in the US after 2008.
As a result, there has also been a fall in the amount of money sent home by migrant workers in the US, which had provided a useful boost for Mexico's economy in the preceding decade.
Economic recovery
Mexico was hit hard by the credit crunch of 2008, experiencing its deepest economic slump since the 1930s.
But its economy has recovered since then, with foreign companies pouring billions of dollars of fresh investment into the country. Foreign direct investment climbed nearly 30% in the first six months of 2010 from a year earlier.
Violent crime though remains a major concern; Mexico has one of the highest rates of kidnappings in the world, and tens of thousands have been killed in drugs-related gang violence since December 2006.
Powerful cartels control the trafficking of drugs from South America to the US, a business that is worth an estimated $13bn (£9bn) a year.
Mexico's northern border towns are experiencing the worst of the violence. Ciudad Juarez (just across from El Paso in Texas) is the city suffering the most. There are also high levels of violence in Michoacan and Guerrero states.
However, Mexico is a large country, and there are still many areas which do not experience high levels of serious crime. The overall murder rate is lower than several other countries in the region, including El Salvador and Honduras.
Native rights
Another persistent issue has been the pressure for greater rights for Mexico's indigenous people. A law passed in 2001 fell short of giving Mexico's Indians political autonomy.
However, demands for indigenous rights have been largely peaceful since 1994, when at least 150 people died during an uprising in the southern state of Chiapas, led by the Zapatista rebel movement.
Writers such as Octavio Paz and Carlos Fuentes, the mural-painter Diego Rivera, and popular ranchero and mariachi music mean that Mexican culture is known throughout the Spanish-speaking world and beyond.