Bolivia takeover: Spain dismayed by TDE nationalisation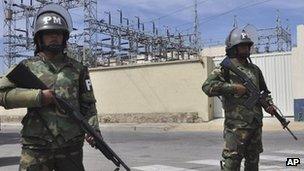 Spain's economy minister has expressed disappointment with Bolivia's nationalisation of a Spanish-owned electric power company.
Luis de Guindos warned it could deter investment, but also stressed Bolivia had agreed to pay compensation.
The European Commission said the move sent a "negative signal" to investors.
President Evo Morales ordered the takeover of REE's Bolivian subsidiary on Tuesday, saying it had not invested enough in Bolivia.
Mr Guindos responded by saying that TDE (Transportadora de Electricidad) had been providing Bolivians with a "good service".
The company owns and runs around three-quarters of Bolivia's power grid.
"The Spanish government does not like such decisions, because they fail to provide legal security for Spanish capital investment in countries like Bolivia," Mr Guindos said.
The European Commission's trade spokesman, John Clancy, also voiced concern at the Bolivian government's decision.
"Actions like this one necessarily send a negative signal to international investors over the business and investment climate in Bolivia," he said.
However, Mr Guindos stressed that the case was "very different" from Argentina's decision last month to nationalise the oil firm YPF, in which Spanish company Repsol had a controlling stake.
He did not elaborate, but according to Spanish daily newspaper ABC the damage to REE will be far smaller than that inflicted on Repsol by the nationalisation of YPF.
'Negative'
"They are independent situations," Mr Guindos said. "These are decisions which are essentially negative for the countries that take them, for the governments that take them."
"They have medium-term implications in terms of these countries' economic development and for the security of investments, which are vital."
Argentina's move prompted an angry response from Spain and the European Union.
The EU's Trade Commissioner Karel de Gucht said the consequences for Argentina's economic development would "be felt for a long time to come".
President Morales announced the takeover of TDE at a May Day ceremony.
"In honour of all Bolivian people who have struggled to recuperate our natural resources and basic services, we are nationalising Transportadora de Electricidad (TDE)," he said.
Mr Morales did not say how the Spanish power company would be compensated, but in his decree he stipulated that the state would negotiate a payout with REE.
Both Mr Guindos and the European Commission said they would be keeping a close eye on whether Bolivia honoured its promise to compensate the firm.
REE bought 99.94% of shares in TDE in 2002. The remaining 0.06% are in the hands of the Bolivian employees of TDE.
TDE's nationalisation is the latest in a series of expropriations decreed by President Morales.
On May Day 2010, he expropriated four power-generating companies.
One of them, British electricity utility company Rurelec, is currently seeking compensation for the takeover at the Permanent Court of Arbitration in The Hague.