Argentina mother opens coffin to find baby alive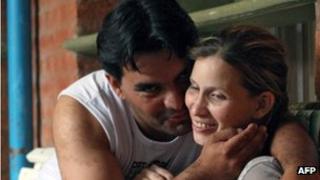 A mother who found her newborn baby alive 12 hours after she had been placed in a sealed coffin has described it as a "miracle".
Analia Bouter and her husband had been told that her premature baby was stillborn when she gave birth in Argentina's Chaco province on 3 April.
When they went to the refrigerated morgue 12 hours later, they found the little girl trembling in the coffin.
The case came to light this week when five hospital workers were suspended.
Rafael Sabatinelli, the deputy health minister in Chaco, told a news conference that they had been suspended following an official investigation.
The baby, named Luz Milagros, or "Miracle Light," is now in a critical but stable condition and is improving.
'Tiny little cry'
In an interview with TeleNoticias, Ms Bouter said: "I moved the coverings aside... and I touched her hand and then uncovered her face. That's where I heard a tiny little cry.
"I fell to my knees. My husband didn't know what to do. We were just crying and I laughed and cried, cries and laughter."
A morgue worker picked the baby girl and confirmed she was alive, at which point Ms Bouter's brother grabbed the baby and ran to the neonatal intensive care unit.
Her mother said the baby was so cold, "it was like carrying a bottle of ice".
Ms Bouter and her husband Fabion Veron plan to sue the Hospital Perrando in the city of Resistencia for malpractice, the Associated Press news agency reports.