US court sentences Mexican gang leader Acosta to life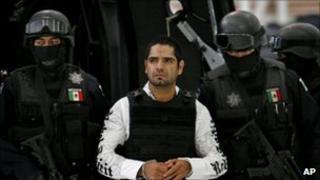 The leader of a Mexican drug gang has been sentenced to life in prison in the United States for the murder of three people linked to the American consulate in Ciudad Juarez in 2010.
Jose Antonio Acosta Hernandez pleaded guilty to the murder of Lesley Enriquez, her American husband, and the husband of another consular worker.
Acosta Hernandez allegedly said he had been involved in the murder of 1,500 people in and around Ciudad Juarez.
He was extradited to the US in 2011.
'Reign of terror'
Assistant Attorney General Lanny Breuer said that as leader of the Barrio Azteca gang of hitmen, Acosta Hernandez "directed a reign of terror".
Prosecutors said Acosta Hernandez and his gang worked as hired killers for the Juarez cartel, which controls some of the main drug smuggling routes from Ciudad Juarez into the United States.
Acosta Hernandez pleaded guilty to seven counts of murder, but according to officials at the US Justice Department, he also admitted ordering hundreds of other killings in the northern Mexican state of Chihuahua.
The officials said among them was the 2010 murder of 16 people, most of them teenagers, at a party in Ciudad Juarez.
Head of the US Drug Enforcement Administration Michele Leonhart called Acosta Hernandez, 34, "a cold-blooded murderer with no respect for human life or the rule of law".