Nohora Valentina Munoz: Police hold 'girl's kidnappers'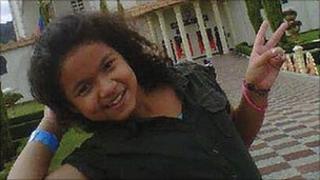 Police in Colombia have arrested three suspects in the kidnapping last September of 10-year-old Nohora Valentina Munoz.
Police said the three belonged to the country's largest left-wing rebel group, the Farc.
Nohora was kidnapped on her way to school in Fortul, a small town near Colombia's border with Venezuela.
She was held for 18 days before being freed after mediation by the International Red Cross.
Police Director Gen Oscar Naranjo said the three suspects belonged to the 54th Front of the Farc.
Motives unclear
Gen Naranjo said one of the suspects, whom he only identified by his alias, The Driver, was arrested in Bogota.
He is accused of driving the car into which Nohora was dragged after the kidnappers tore her away from her mother, who was taking her to school.
The two other suspects, identified as Pepo and Richard, were captured in the capital, Bogota.
It is not clear why the rebels kidnapped the girl, who is the daughter of the mayor of Fortul, a small town in Arauca province.
At the time of the kidnapping, her family said that hey had not received any ransom demands.
Nohora was freed after negotiations led by the International Red Cross.
Her abduction shocked the country, and tens of thousands of people took to the streets to demand her release.
Gen Naranjo said police were on the trail of more rebels they accuse of participating in Nohora Valentina's kidnap.