Ten Colombian soldiers killed in rebel ambush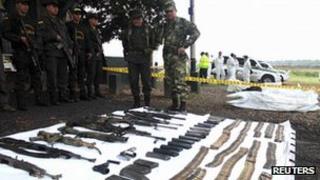 Ten Colombian soldiers have died in an ambush by rebels in the eastern province of Arauca - the second such attack in two days.
On Friday, a similar ambush killed 10 soldiers in the southern province of Narino, near Colombia's border with Ecuador.
The army blamed both attacks on left-wing Farc (Revolutionary Armed Forces of Colombia) rebels.
On 30 October, Colombians vote in regional elections.
The army command said the latest attack happened in a rural area of Tame municipality, about 320km (200 miles) northeast of the capital Bogota and near the Venezuelan border.
The Marxist-inspired Farc has been severely weakened by a military offensive which began 10 years ago, but retains the ability to mount hit-and-run attacks, partly due to cash raised through its involvement in the illegal drugs trade and partly thanks to Colombia's thick jungles.