Colombia troops kill ELN rebels during kidnap search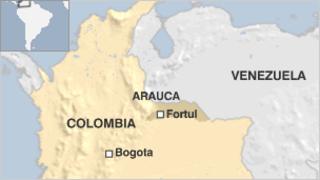 The Colombian army says it has killed five suspected ELN rebels during a search for a kidnapped girl near the Venezuelan border.
Troops also clashed with guerrillas from the Farc - Colombia's main left-wing rebel group.
The fighting happened outside the town of Fortul, where 10-year-old Nohora Munoz was abducted last week.
A huge operation is underway to try to find the girl, whose kidnapping has caused a national outcry.
Another suspected ELN guerrilla was wounded in the fighting, and weapons and explosives were captured, local army commander Gen Jaime Reyes said.
"Like all Colombians, we want the child to be returned to her family," the general told the Efe news agency.
It is still not clear who kidnapped the girl - who is the daughter of the local mayor - but the Farc rebels have been widely blamed.
According to local media reports, the ELN have urged the Farc to "clarify the situation" of the child.
Both guerrilla groups have a strong presence in the eastern Arauca region, which is one of Colombia's main oil producing areas.
Right-wing paramilitaries and criminal gangs are also active.
Colombia was once known as the "kidnap capital of the world", but the kidnapping rate has fallen sharply over the past decade.