US envoy Richardson in Cuba to seek Alan Gross release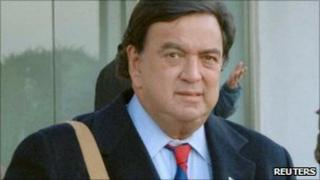 Former New Mexico Governor Bill Richardson is in Cuba to seek the release of a US contractor whose imprisonment has frozen attempts to improve bilateral ties.
The state department said it supported Mr Richardson's efforts, but he was travelling in a personal capacity.
Contractor Alan Gross is serving a 15-year jail sentence for bringing illegal satellite equipment into Cuba.
The US has repeatedly demanded his release.
Bill Richardson, who has previously acted as a diplomatic trouble-shooter for the US, made no comment on his mission when questioned by reporters in Havana.
The Gross family said Mr Richardson was travelling at the invitation of the Cuban government.
"We welcome any and all dialogue that ultimately will result in Alan's release," the family said in a statement.
Mr Richardson made a trip to Havana in August 2010, when he also raised Mr Gross' case, without winning any concessions.
Former US President Jimmy Carter also raised the matter during a visit to Cuba in March.
Humanitarian grounds?
Alan Gross, 62, was arrested in December 2009 for distributing illegal communications equipment in Havana.
Last March he was convicted of crimes against the communist state.
He says he was just trying to help Cuba's small Jewish community get access to the internet.
Gross was in Cuba working as a contractor for the US Agency for International Development (USAID) on a secretive programme aimed at promoting democracy in Cuba.
Last month, Cuba's Supreme Court upheld his sentence, saying he was part of a programme aimed at "subverting" and "destabilising" the communist system.
Mr Gross' family have asked for his release on humanitarian grounds, saying he is unwell and both his wife and daughter have cancer.