Mexican police seize 'meth maker' Nery Salgado Harrison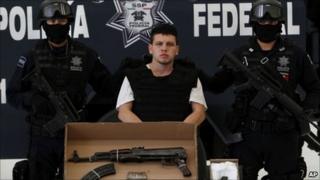 Mexican police have arrested a man described as a senior drug figure in the state of Michoacan.
Nery Salgado Harrison, 24, is accused of overseeing the production of methamphetamines in the state for a drug cartel calling itself the Knights Templar.
The group is active in central and southern parts of Mexico.
The Knights Templar and a rival gang, La Familia, have been fighting for control of meth labs in the region.
Mr Harrison - whose alias was "Yupo" - was arrested in the city of Apatzingan in Michoacan.
He was carrying weapons, drugs and communications equipment when arrested, said Ramon Pequeno, head of a police anti-drugs unit.
Mr Harrison is accused of having acted as a link with corrupt officials, collecting tip-offs about police movements within Apatzingan.
Police said they had also arrested 27-year-old Nestor Irepan Ramirez Munoz, in connection with the murder of 21 people in the Michoacan town of Quiroga in June.
Mr Munoz, known as "El Silver", is also a member of the Knights Templar cartel.
Mr Pequeno said the killings were part of a strategy by the cartel to kidnap and kill "common criminals" in order to "give a show of strength".
The gangs are battling for control of access to the lucrative US narcotics market.
The violence used to be concentrated on the northern border region but since 2010, has been spreading into other parts of the country.
Some 40,000 people have died in drug-related violence since President Felipe Calderon began deploying troops to fight the cartels in late 2006.