US deports former Guatemalan soldier over 1982 massacre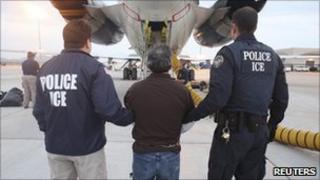 The United States has deported to Guatemala a former soldier accused of taking part in the killings of at least 162 people in 1982.
Pedro Pimentel Rios, 54, was a member of the right wing elite army unit known as the Kaibiles.
The group was accused of killing innocent civilians in the village of Dos Erres during a raid at the height of Guatemala's civil war.
He was arrested last year, after living in California for two decades.
He fled Guatemala towards the end of the 36-year-long civil war, fought mostly between right-wing military governments and left-wing rebels.
An estimated 200,000 people were killed in the conflict, which ended in 1996.
The Kaibiles are accused of many human rights violations. Guatemalan attorney Edgar Perez said dozens of witness would be available to testify in the case of Dos Erres.
An investigation on the case was opened in 1994.
Fifteen years later, the Inter-American Court of Human Rights ordered Guatemala to prosecute those responsible for the massacre.
A former soldier, Gilberto Jordan, was sentenced in 2010 in Florida to 10 years in jail. He admitted throwing a baby down a well during a raid on the village
Mr Pimentel Rios had his appeal for asylum in the US denied in May, after being arrested last year.