Inmates at Venezuela's Rodeo prison free 'hostages'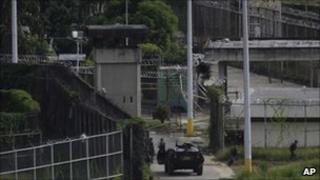 State media in Venezuela say prisoners who took control of a jail near the capital Caracas three weeks ago have released 148 fellow inmates whom they were allegedly holding hostage.
There are conflicting reports about the situation inside the prison.
Venezuelan officials say a small gang of inmates is terrorising the rest of the prison population.
But relatives of the prisoners say the men were resisting a police operation aimed at getting rid of armed gangs.
State news agency AVN said the armed prisoners freed 148 inmates, many of whom were ill or weak three weeks into the stand-off with the security forces.
The release had been made possible after relatives negotiated with the leaders of the armed group of inmates, the news agency reported.
The prisoners also handed over the body of an inmate who died during the stand-off.
Lethal stand-off
Officials say 869 prisoners are still being held by the armed gang, which is made up of some 50 inmates.
The security forces were sent into the jail on 17 June after 22 inmates were killed in a fight between rival gangs at El Rodeo I prison in Guatire, near Caracas.
At least 3,500 troops from the Venezuelan National Guard moved into the jail and managed to regain control of Rodeo I, but were fired on by prisoners in the adjoining Rodeo II complex.
Despite the deployment of an extra 400 troops, the security forces have not been able to take control of Rodeo II.
Hundreds of relatives have been camped outside the jail and have also clashed with the security forces on a number of occasions.
Officials say three members of the security forces have been killed in the operations to retake the prison.
There are conflicting accounts regarding the number of inmates who have died.
The security forces say one prisoner was killed during the operation to take Rodeo I.
They say five more were killed in internal gang fights in the following weeks and one died from health complications.
Local media put the number of inmates killed at a minimum of eight.
Prisons in Venezuela are notoriously overcrowded and violent.
The government has allocated almost $100m (£60.1m) to the task of reforming the prison sector, but Interior Minister Tareck El Aissami has said it will take time to tackle "the sheer drama, urgency and complexity of the problems besetting the prison system".