Venezuela scraps controversial university law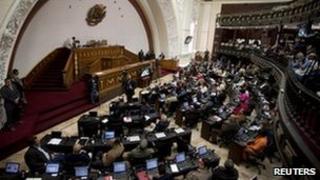 Venezuela's national assembly has scrapped a controversial education reform law that would have increased government control over universities.
The bill was part of a raft of legislation passed by supporters of President Hugo Chavez last month in the final days of the outgoing parliament.
But the new assembly voted to scrap the measure after Mr Chavez said he would veto it following widespread criticism.
Student protesters said the law threatened university autonomy.
The education law was designed by Mr Chavez's supporters to make universities more democratic, by giving workers more of a say in how they are run and opening them up to more Venezuelans.
But the president said last week he would veto the bill after taking "numerous criticisms" into account, and urged renewed debate on the future of higher education.
"We celebrate the president's initiative in backing off this bill, because it is an unconstitutional bill which aimed to flout the principle of autonomy," said opposition assembly member Leomagno Flores.
Lecturers and students had protested that it would have been used to promote Mr Chavez's socialist ideology in the universities and reduce their independence - a cherished principle in Latin America.
Totalitarian
The education bill was one of more than 20 that were rushed through the national assembly in December in the final days before a newly-elected parliament with more opposition members was sworn in.
The most controversial measure was an enabling law which gave president Chavez the power to govern by decree for 18 months.
Mr Chavez said he needed the powers to deal with the aftermath of devastating floods, but his opponents said it was a step towards dictatorship.
Venezuela's Roman Catholic bishops have added their voice to the widespread criticism of the measure, accusing the President of trying to impose a "totalitarian system" in Venezuela.
In a statement released on Tuesday, the Bishops' Conference called the law "unacceptable" and urged Mr Chavez to send it back to parliament in a gesture of goodwill.
Mr Chavez has frequently clashed with church leaders, whom he accuses of neglecting the poor, siding with the opposition, and defending the rich.