Armed gang kidnaps 22 Mexican tourists in Acapulco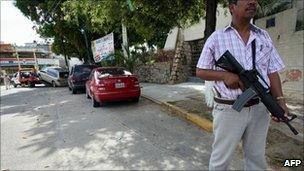 An armed gang has kidnapped 22 Mexican tourists in the resort city of Acapulco, the prosecutor's office in the southern state of Guerrero said.
The office said the group, from the neighbouring state of Michoacan, was abducted on Thursday.
The tourists were looking for a hotel when they were seized by gunmen, local media reported.
Acapulco is popular with visitors but it is also the scene of a violent turf war between rival drug cartels.
The prosecutor's office said it did not know the motive for the kidnapping, or who was behind it.
Weekend stay
Director of the investigative police in Guerrero state Fernando Monreal said the kidnapping had been reported by a man who had been travelling with the group.
The man said they all worked for an car mechanics company and had come to Acapulco for a weekend stay.
He said he got out of one of the cars the group had been travelling in to buy something in a nearby shop. When he returned, his colleagues had disappeared.
Mr Monreal said the man provided police with the names of the abducted and a description of their cars but had since vanished.
"It is very probable that he went back to where he was from," Mr Monreal told the Reuters news agency. "We are looking for evidence. The information is very thin."
Police later found the cars abandoned close to where the abductions took place.
Michoacan is the power base for La Familia Michoacana, a violent drug cartel active on Mexico's Pacific coast.
The BBC's Julian Miglierini in Mexico City says that while violent attacks have become more common in Acapulco, this is the first mass kidnapping to happen in the popular tourist spot.