New estimate for rescue of trapped Chile miners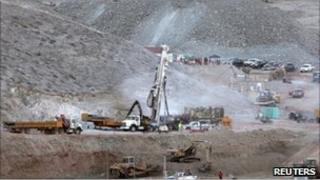 The engineer in charge of the rescue of 33 miners trapped underground in Chile says he hopes the men could be freed in early November.
Initially, mining experts had said the rescue could take until Christmas.
Engineer Rene Aguilar said a drill used to dig a hole to haul the men to safety had reached a depth of more than 350m, halfway to where the miners were trapped after a rockfall 41 days ago.
Mr Aguilar said work was progressing well, but a rescue was still weeks off.
'Machine of miracles'
The Schramm T-130, one of the two drills being used to bore shafts big enough to rescue the men, resumed work on Wednesday.
Part of the drill had broken off when it hit a piece of metal, and got caught in the machinery.
Relatives of the miners had dubbed the T-130 "the machine of miracles".
They said its breakdown caused frustration among the men underground, who can hear the drills when they are working.
The BBC's Gideon Long, who is at the San Jose mine, said news of its renewed progress had been welcomed by the families gathered at Camp Hope.
Mr Aguilar said the drill could reach the area where the miners are as early as this weekend. However, this initial drilling is only creating a pilot hole 30cm (12in) in diameter.
Once it reaches the miners, the engineers will have to haul the drill up to the surface and dig down again to widen the shaft so it is big enough to pull the men up to safety.
A second drill, the Strata 950, has also reached a depth of more than 300m (985ft).
And a third drill, which can dig a hole big enough to rescue the men in one go is being assembled at the mine and is expected to start work on 20 September.