Officials investigating Mexico massacre 'found dead'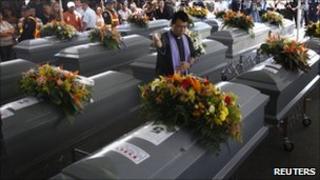 The authorities in Mexico say they believe they have found the bodies of two officials investigating the killing of 72 foreign migrants last month.
Prosecutor Roberto Suarez Vazquez and Juan Carlos Suarez Sanchez, a top security official, went missing two weeks ago in the state of Tamaulipas.
Identification documents found with the bodies near the town of San Fernando on Tuesday matched those of the two men.
The massacre of the migrants has been blamed on a powerful drug cartel.
One of two confirmed survivors has said members of the Los Zetas cartel opened fire when they refused to carry out assassinations for them.
The 58 men and 14 women were from South and Central America and had been trying to reach the United States.
Killers identified
Mr Suarez Vazquez was one of the first people to find the migrants' bullet-ridden bodies at an abandoned ranch near San Fernando on 24 August.
Both he and Mr Suarez Sanchez, the head of the local Public Security department, were investigating the killings, but disappeared the following day. Officials feared that they had been abducted.
Then a fortnight later, two bodies were found in a field about 50km (30 miles) north-east of San Fernando.
The Tamaulipas state attorney-general's office said identification documents found on the bodies matched those of the missing officials, but that it was conducting DNA tests to confirm the identities.
After their disappearance was reported, Mr Suarez Vazquez's wife told the BBC that she feared the worst and that she assumed those who had abducted them were connected to organised crime in the region.
If confirmed, the killings would be a new demonstration of the power and ruthlessness of Mexico's drug cartels.
On Monday, officials said an anonymous caller had told them where to find the bodies of three men who had participated in the massacre.
A Honduran man who survived the slaughter later identified the three dead men as having been among the killers, the officials added.
A total of seven men have now been identified as suspects. One was arrested by the security forces at the site of the killings, while three others were shot dead.
A spokesman for the Mexican attorney-general said the evidence and testimony suggested "very strongly" that the Zetas were involved.