Jersey charity food parcel deliveries double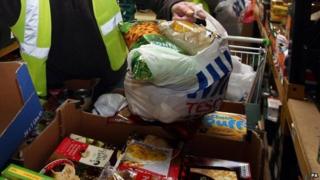 The number of emergency food parcels given out by a Christian charity that helps vulnerable islanders has more than doubled in the past few years.
The Grace Trust Jersey is now responding to up to 30 requests per week for food.
Gerry Padden from the trust said it gave out 735 parcels in 2013 compared to 344 in 2011.
Community Savings, a charity that provides emergency loans, said it had also seen an increase in requests.
The Grace Trust handed out 14 parcels in one day from its base in Minden Place earlier this year and Mr Padden expects demand to increase.
He said: "We set it up seven years ago with a handful of tins on a shelf in St John. There was no need for it at the time.
"Four years ago things picked up and in the last year or so things got madder. There are a lot of people in need, basically."
Brian Curtis, executive chairman of Community Savings, said as well as giving islanders money it also mentored people so they did not fall back into the same problems.
He said the average loan, to help people through tough times, was about £300, but they had to be customers of Community Savings.
He said: "We look to create ongoing relationships with our people so we can also provide a mentoring service, so once they are out of the problem they don't get back in to it."
But Jersey Citizens' Advice Bureau said the number of people coming forward with money problems had fallen in the past year.
Chief executive Malcolm Ferey said the figures, from its annual report, suggested fewer people were developing money problems and more were seeking help earlier.
The number of clients the charity has helped dropped from 362 in 2011 to 241 last year.
The size of its clients' overall debt was also down from £5m in 2012 to £3.7m in 2013.