Jersey's Slave Workers' Memorial gets international support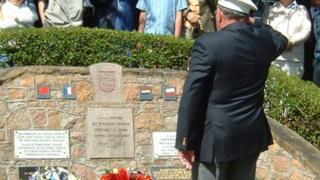 Dignitaries from Poland, Russia and Belarus have been remembering the slave and forced labour workers who suffered on Jersey during World War Two.
Each year on Liberation Day wreaths are laid at the Slave Workers' Memorial at Westmount.
This year the Polish Ambassador to the UK, and officials from the Russian and Belarus Embassies will also take part.
It is a chance to remember the thousands of slave workers who suffered at the hands of the German forces.
The memorial is organised by Gary Font, the son of a Spanish forced worker, who said he was proud to carry on the Jersey tradition which remembers the workers.
Mr Font said: "We are honoured to be welcoming the Polish Ambassador and the officials from Russia and Belorus, as well as our many loyal local supporters.
"The ceremony remembers all the nationalities that were forced to work in turning the Channel Islands into fortresses as part of Hitler's Atlantic Wall."
Polish Ambassador, Witold Sobków, travelled to Jersey especially to attend the commemoration.
He will be laying a wreath on behalf of the Polish Government in memory of Poles who toiled and died in Jersey during the Occupation.
The wreath laying ceremony will be led by the Lieutenant-Governor, General Sir John McColl.
Jersey was liberated from Nazi occupation on 9 May, 1945.