Drug import seizures totalled £2.4m in 2013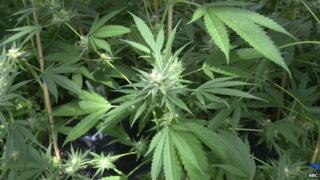 More illegal drugs like mephedrone have been seized in Jersey in 2014 than throughout 2013, customs officials say.
Seizures worth £2.4m were made last year, the Customs and Immigration Service annual report showed.
About 90% involved cannabis but "new psychoactive substances" seizures, like mephedrone, are on the rise.
Mephedrone with a street value of £14,500 was seized in 2013 but a single raid this month uncovered a haul worth £120,000, the service said.
Mark Cockerham, director of law enforcement, said: "Between us and the police we've seized more than three kilos of NPS [new psychoactive substances]."
Organised crime
He said it would be "naive" to think all drugs coming into Jersey would be intercepted.
"People are using them so they're coming in, but we have got an effective border control," he said.
"The street price of drugs here is very much higher than in surrounding areas so that reflects that availability is less."
Almost £1m of seizures in 2013 related to importation by ferry while £1.3m worth of drugs were intercepted outside Jersey or on small boats.
Prison sentences totalling 44 years were handed down to 16 people for a variety of customs-related offences, according to the report.
The Home Affairs department said targeted operations were having an impact on organised crime.
Detective Inspector Craig Jackson, of the States of Jersey Police, said: "Over the last two years we've had an increase in intelligence and seizures.
"It's only with the help of the public we can do this."