Channel Islands hit by power cut after loss of link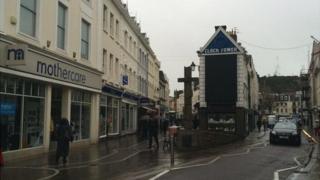 Power is restored to homes and businesses across the Channel Islands after the link to France is restored after two and a half hours.
The Jersey Electricity Company is investigating the cause of the power cut that hit at about 09:15 GMT.
Chief Executive Chris Ambler said it was probably caused by lightning storms in France.
Mr Ambler said they used the La Collette Power Station on island while the French link was down.
'Really scary'
Traffic lights were out across the islands for a while and a number of shops were unable to open.
A spokesman for Jersey Airport said they were having to manually open and close car parking barriers during the power cut.
Jersey Fire and Rescue were called out to seven cases of people trapped in lifts.
Former Chief Minister Frank Walker and his wife, Fiona, were among those who got stuck in a lift.
Mrs Walker said it was a frightening experience.
She said: "We pressed the button to go up, we were chatting as normal and then all of a sudden it jerks to a stop and the light goes off.
"I have a thing about lifts anyhow, it was the scariest experience, there was not a sliver of light at all which made it really scary."