Stronger links urged between Jersey and Madeira
12 January 2014

From the section

Jersey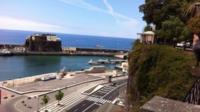 Stronger education, environmental and sporting links between Jersey and Madeira are being encouraged by the St Helier Constable.
Constable Simon Crowcroft is visiting Madeira to promote cultural links between schools in the two islands.
He said he hoped the trip will develop musical links and sporting fixtures.
A twinning agreement between St Helier and Funchal - the main town in Madeira - was signed in 2012.
Constable Crowcroft said: "Perhaps the most useful work is I met the head teacher and staff from the Funchal's oldest secondary school to talk about an exchange trip with a school in Jersey.
"I have had lots of meetings with people involved in the economy, agriculture and tourism.
"I think the twinning has been tremendously successful. They are very interested in Jersey. Most people in Madeira have either been to Jersey or know someone who works there."
During his trip Constable Crowcroft will also meet the new Mayor of Funchal for the first time.
He hopes the islands' environmental departments can work together to protect and promote their natural assets.
Jersey has a large Madeiran community.
Madeira is more than six times the size of Jersey with more than 267,000 inhabitants.