Search-and-rescue plane crash lands on Jersey
4 November 2013

From the section

Jersey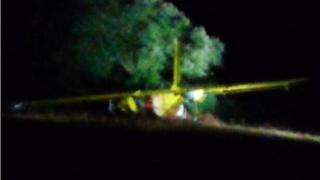 A search-and-rescue plane with five people on board has crash-landed on the north coast of Jersey while searching for two missing fishermen.
Those on board were not injured in the incident, which happened shortly after 19:15 GMT in woodland close to the Priory Inn, at Devil's Hole, St Mary.
Jersey Coastguard said at about 23:30 that the two fishermen had been found and a rescue operation was under way.
It is understood the men are conscious but suffering from hypothermia.
They were taken by helicopter to Jersey General Hospital.
'Miraculous escape'
Jon Gripton, managing editor of BBC Radio Jersey, said the twin-engine propeller plane was "intact" after "hitting a tree perilously close to the cliff top" at Devil's Hole.
"There are reports that engines on the aircraft failed and that the plane used the twinkling lights of the pub in the darkness on the north coast as a target to try to land the craft on dry land," he told the BBC News Channel.
"Five people were on board and miraculously they appear to be ok and uninjured, and currently with the emergency services at the pub."
A Jersey Police statement said: "At 7.15pm the emergency services received a call from the Airport Fire Service and Coastguard who were reporting issues with a Channel Islands Air Search (CIAS) plane.
"The plane subsequently made an emergency landing in a field in St Mary.
"Five people were on board, all are OK and currently with officers.
"We have no confirmed injuries at this time. The plane has been made safe by the fire service.
"The aircraft is confirmed as the Lion's Pride, a PBN-2B Islander aircraft built in 1982."
Mr Gripton said the crash-landing happened during gale-force winds and torrential rain in a very rural part of the island, and as such it was pitch black.
He said emergency services were continuing to search the surrounding woodland.
'Shaken up'
John Dowling, manager of the Priory Inn, said the five people on board had gone into his pub with police after the incident.
"No-one was injured, everyone was all right and that is the main thing, isn't it?" he said.
"Of course they were shaken up.
"You would be too if you'd just crash landed a plane, wouldn't you?"
A number of vessels had spent more than five hours searching for the two missing men, along with the CIAS aircraft, a volunteer-run rapid response service.
The search had centred around the Ecrehous, a group of islands and rocks six miles north-east of Jersey.
The French and Jersey coastguards, along with lifeboats from Jersey and Alderney, and the Solent Coastguard, were also involved.
A statement from Jersey Coastguard said: "The two missing men involved in this evening's incident at Les Ecrehous have been found.
"A rescue operation is currently under way and we will update as and when we have further information."