WW2 bomb blown up on Jersey beach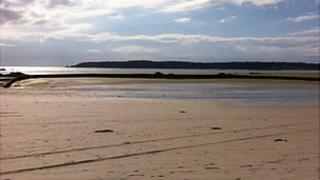 A World War Two bomb found on Jersey's West Park beach has been detonated by a bomb disposal expert.
The device was discovered by a walker with a metal detector at about 13:30 BST.
Police put a 100m (330ft) cordon in place while the bomb was examined and destroyed in a controlled explosion.
Stuart Elliott, who detonated the device, said the man who found it had previously discovered other explosive devices along the island's coast.
He said the 105mm high explosive German WW2 shell was probably fired from one of the gun emplacements along the coast during the German Occupation.
Mr Elliott said: "The fuse was missing, which makes it easier to handle. These [shells] tend to fail on sand as it was too soft for it to active the fuses."