Jersey cyclist dies after being hit by van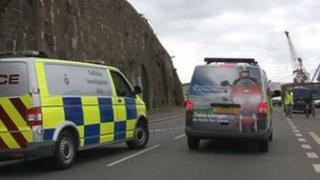 A cyclist hit by a van in St Helier has died according to the States of Jersey police.
The 40-year-old, who has not been named, collided with a Ford Luton Transit at about 13:15 BST outside the old La Folie pub near Mount Bingham.
He was treated at the scene by paramedics but was pronounced dead a short time later.
States of Jersey police say the van driver is being treated as a significant witness.
It happened in a busy commercial area and caused traffic queues of several miles.