Fear Jersey Golf Course fire destroyed cirl bunting habitat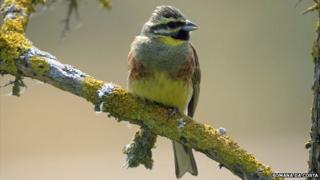 It is feared the habitat of a rare bird was destroyed in a fire at the Royal Jersey Golf Course on Wednesday.
The blaze, which is being investigated by police, destroyed an area smaller than a squash court after it was contained by the fire service.
There is only two cirl buntings in the island and the breeding pair were believed to have nested in the area.
Dr Glyn Young from the Durrell Wildlife Conservation Trust said since the fire neither of them had been seen.
He said: "There's no reason for the birds to have died... it's possible they've dispersed somewhere else in Grouville."
Dr Young added: "We leave the birds alone as much as possible so we don't know where the nest would be or even if there was one."
He said fires were always destructive to wildlife and the area of this blaze was home to rare species such as lizards and the Dartford Warbler, which only nests in gorse.
The cirl bunting, a sparrow-sized bird with a striped black and yellow face, was thought to be extinct in Jersey as it had not been seen since 2002.
However, conservationists were working with golf course staff to protect the birds after a pair settled in the area in 2012 and two chicks were born and reared last year.
Dr Young said of the cirl bunting: "It's not clear why they died out in the first place... we're waiting with fingers crossed the pair will turn up again."