Row over council staff dismantling gravestone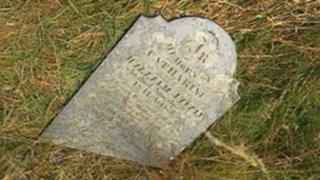 A vicar is calling for a gravestone in his churchyard to be repaired after it was dismantled by council staff.
The headstone, at Constantine Church in Cornwall, was for Catherine Vivian, who died in 1841.
The Reverend Stewart Turner said parishioners were upset by the move.
Cornwall Council said the stone had to be dismantled immediately because it was extremely unstable, but added it was in discussions so repairs could be carried out as quickly as possible.
Reverend Turner said he was first made aware of the dismantling of the 170-year-old gravestone, on a path beside the Grade I-listed church, by parishioners who said a section was removed and laid flat nearby.
'No contact'
He said be believed workers made a mistake because they did not realise that it had previously been repaired with two steel pins.
He said: "While I understand the need for health and safety, they made a mistake.
"They made no attempt to contact anyone in the church to talk about it. They simply took it upon themselves to do what they have done."
Cornwall Council said workers removed the section because it was "leaning precariously into the main path of the cemetery and had considerable movement and signs of cracking".
The authority, which manages 83 closed churchyards, agreed steel pins had been used for previous repair work.
But it added a further inspection revealed a new crack which meant "the top half of the structure, above the original crack, was extremely unstable and could have failed at any time".
It said: "While we would usually try to contact the parochial church council before taking action, in cases such as this, where the headstone could have fallen at any time, the council was required to take immediate action.
"We have already spoken with Reverend Turner to discuss repairing and reinstalling the memorial as quickly as possible."