HMV to close Jersey store in July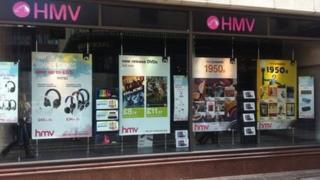 Entertainment retailer HMV is to close its Jersey store with 13 people losing their jobs.
The store which sells DVDs and music was saved when the company closed about 100 UK stores in January.
It is currently located at the front of the Voisins department store but will close at the end of July.
Voisins told HMV it wanted to use the space for a different purpose and offered it space elsewhere in the store.
HMV said it had decided to leave the island rather than find another location.
HMV operations director Neil Taylor said: "It is with considerable regret that we leave the island in August. I would like to take this opportunity to pass on our sincere thanks to all of our customers for their support over the years."
Voisins chairman Gerald Voisin said HMV was taking up a prime area of floor space within the store.
He said: "Owing to sharply declining sales over the last year, we have taken the decision to reallocate this space.
"In May, Voisins gave HMV two months' notice to vacate the current site. At the same time, we offered HMV alternative sites both in Voisins and externally. However, HMV has chosen not to move to either of these locations and has decided to leave Jersey."
He said that Voisins be using the space to introduce new lifestyle and fashion brands and would be creating about 20 jobs.