Jersey Electricity undersea cable causes road closures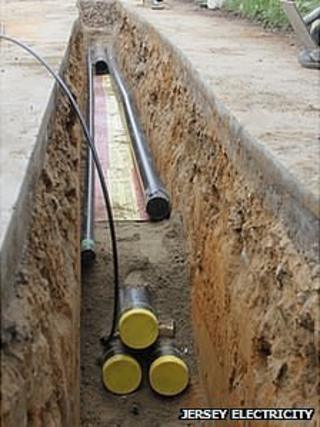 Five weeks of road closures are being caused by preparations for the laying of the third undersea electricity cable between Jersey and France.
One of the island's cables, Normandie 1, failed in June 2012, limiting how much electricity could be imported.
Ducts are being laid for the cables to run the 7km route from Grouville, where the new cable will come ashore, and Jersey Electricity's switching station.
The closures in the east of Jersey will start in Grouville on Tuesday.
La Rue a Don will be closed to through traffic from Longueville to the Villes es Renauds junction in Grouville from 09:00-21:00 BST for about two weeks when it will be closed to just westbound traffic.
The work to prepare the land route for the cable is expected to continue until August 2014.
Jeremy Willis, senior project engineer, said the ducts minimised road closures and meant the cable could be laid in longer sections.
Import and export
He said the ducts can be laid in short sections, which the cable would be "pulled through".
Mr Willis said: "It also means we can lay longer lengths, reducing "jointing" and preserving the integrity of the cable.
"Only five joints, excluding connections, will be needed on this 7km distance."
The Normandie 3 cable laid under the sea will be 35km long and capable of importing or exporting up to 100 megawatts.
Chris Ambler said: "If all goes well, we expect Normandie 3 to be laid early in 2014 and in service by 2015."