Jersey planners delay decision over supermarket plans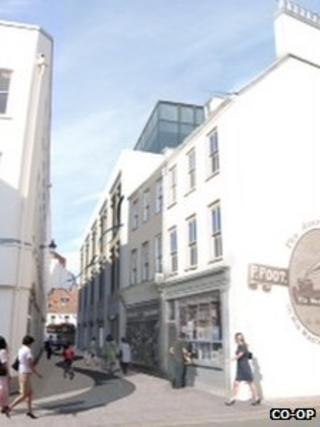 Plans for a supermarket development at Charing Cross in St Helier have been put on hold after the Jersey company changed its plans.
Planners had recommended the idea be refused due to the historic nature of the area.
The Channel Islands Co-Operative Society plans were due to be voted on at a planning meeting later.
However, the society has amended its proposals to preserve two of the six listed buildings it hoped to demolish.
Peter Le Gresley, of the planning department, said the revised plans appeared to offer a more positive scheme and officials needed more time to consider them.
'Fond memories'
He said: "The demolition of all listed buildings in Pitt Street and Dumaresq Street was always going to be a challenge and I'm pleased to see that the new plan retains some heritage buildings on the site."
Colin Macleod, chief executive of the Channel Islands Co-Operative Society, said they had 4,500 responses to a survey on their plans for the site and 3,780 were in favour.
One of the buildings that could be saved under the revised plans is the former Foot's record shop including the "His Masters Voice" mural on the wall.
Mr Macleod said: "Many of our members have expressed fond memories of buying their first record at Foot's, recalled the look and feel of the interior and of course the 'Nipper' sign on that wall.
"We have listened, as we have throughout, and although it will increase our costs, we believe it to be in the best interest of our community that we offer this building a second chance."
The plans will be published for members of the public to share their thoughts before the planning department consider them again.