Jersey athletics boss calls for multi-sport stadium
28 May 2013

From the section

Jersey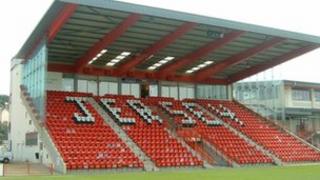 Jersey needs a new stadium to support a range of sports groups, the head of athletics in the island says.
Andrew Winnie, athletics development officer, said a multi-sport facility would be more viable than all sports going it alone.
He said a new stadium for a range of sports could allow Jersey to host major tournaments.
Jersey's Economic Development Minister, Senator Alan Maclean, said he supported the idea in principle.
Mr Winnie said: "If we had an all-purpose sports facility we could attract various sports on the island that would put Jersey on the map sports-wise.
"Sports facilities don't make money but if we all combine together it would reduce the loss and maybe make it economically viable.
"By word of mouth, if sports people are coming over here they may bring their families back on holiday; this is what we must look at. It might be small fry in the great big ways of the world but every few hundred people we can attract is good."
Senator Maclean said for this to work the various sports would need to work on creating a business plan.
He said: "We need to find out what it would cost, what the return would be, what the indirect return would be but it really needs a proper business plan.
"That is how we ended up providing funding for the rugby club because they put forward a tangible business plan."
Jersey's Economic Development department sponsored Jersey Rugby Club for £75,000 for a year in 2012 when the club entered the Championship.