Jersey lifeguard service warns over high tides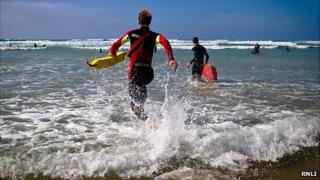 People in Jersey are being warned to be careful of high spring tides when going out to sea or on the beach.
Two dog walkers had to be rescued by the fire and rescue service after getting stuck at Green Island late on Sunday.
The high tide at 21:06 BST will be one of the biggest so far this year at 37ft (11.2m).
Jersey lifeguard supervisor Rob Stuteley said it was easy to be caught out due to the island's tidal range.
He said: "You have to be aware that we have large tides at the moment and make sure you are aware of times of high tides and water.
"Make sure you have enough time to get back if you are on the beaches and give yourself enough time to get back."