Jersey 'should invest in tidal power' - minister
27 May 2013

From the section

Jersey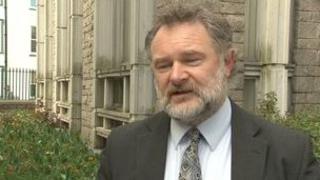 Jersey should invest money in researching new energy sources, the island's minister for the environment says.
Deputy Robert Duhamel said public money should be spent attracting companies to the island to work on finding renewable solutions.
He said a £5m innovation fund set up by the economic development department could be used for this.
The minister said Jersey's high tidal range should be exploited.
He said: "A key issue was recognising that we have energy dense waters and it is a resource that could be exploited.
"But any exploiting of that water would need to be done with others."
A states scrutiny panel has been looking into a new draft energy policy as part of a States plan to lower carbon emissions to 20% of 1990 levels before 2050.
The Department for the Environment has suggested a long-term plan involving alternative energy sources, such as wind and tidal, and reducing waste.
Previous surveys in Jersey have found one third of emissions come from cars and other transport and another third for domestic heating and power within the home. The remainder comes from running essential services and powering businesses and manufacturing activities.
Environmental campaigner Mark Forskitt said the policy was a step in the right direction but only a small one.
He said: "The energy policy gets us a sort of framework towards getting answers sorted out but there are still a lot of concerns.
"We could do more but we seem to be trying to do the least possible without actually completely destroying the chance of meeting the targets."