Jersey postal staff to check on vulnerable islanders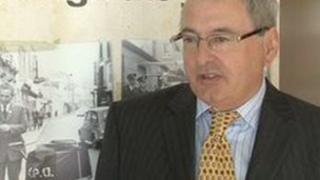 Postal staff in Jersey could be used to check on older, disabled or isolated islanders as part of their rounds.
The idea for the Call and Check scheme came from a postman after workers were asked what other services could be offered as demand for post falls.
Staff who opt in for the voluntary scheme would report anything unusual or suspicious they notice while out delivering mail.
The scheme is due to be trialled in St Brelade later this year.
The chief executive of Jersey Post, Kevin Keen, said it was a simple idea that could keep people safe.
He said letter mail value had declined and the end of VAT relief last April had "a dramatic impact on our business, as it has on the rest of the island".
'Postmen are trusted'
Mr Keen said: "Bulk mail accounted for around half of our mail volumes and these are now running around 70% lower than the same time last year."
He also said the company was not trying to substitute any of the other professions, just trying to help them.
The trial will be free, but the firm would need to look how to cover its costs when the scheme begins, Mr Keen said.
"Postmen are trusted, they visit every address every day, it is just a good opportunity to reduce costs for the island and look after our residents."
Hilary Grant from Meals on Wheels said anything that keeps older people safe is worthwhile.
She said: "I think it is a really good idea, Jersey postmen know their clients extremely well and it would be a double check for people living on their own."
The idea has caught the attention of Harvard Business School, whose representatives are meeting with Jersey postal staff and local charities later to discuss how to run the scheme.
It will be working with Jersey Post on rolling out the scheme.