Jersey States to study island tractor law
19 May 2013

From the section

Jersey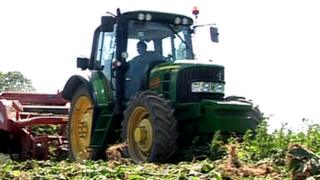 The laws governing who can drive tractors and other agricultural machinery in Jersey are out of date, according to a scrutiny panel.
Chairman Deputy John Young said the laws dated back to 1956 and since then farm machinery had changed enormously.
He said his committee would look into all aspects of the way road-legal farm machinery was regulated.
Deputy Young said: "We want to explore the suitability of the current law to regulate the vehicles."
The study will look at the lighting on vehicles, their suitability on Jersey roads and the licensing of young drivers.
Currently it is legal to drive a tractor at 16.
He said: "Tractors have changed tremendously between the 1950s and the large and power vehicles we see driving on the islands roads today.
"We want to check out all of those details to make sure we have safe standards."
The States announced plans to look into tractor usage in 2010 but nothing came of it.