Jersey government approves housing reforms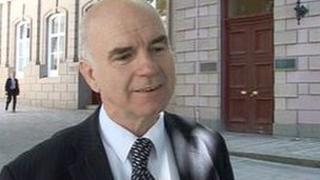 Jersey's government has agreed to reform the way social housing is provided in the island.
Jersey politicians approved the housing minister's proposals by 32 votes to eight.
Deputy Andrew Green said social housing had been neglected for too long and the changes would be a defining moment for Jersey.
Under the plans, the housing department will become a States-owned company able to borrow money to improve standards.
New tenants will also start paying rents at 90% of private sector levels.
One change is that housing trusts will be able to control the level of rent they charge after an amendment by Deputy John le Fondre.
The government had hoped to set rents for some tenants just below the open market rate but the change meant the trusts, which meet a fifth of the demand for social housing in Jersey, will be able to charge less if they want to.
Mike Dunn, from the Social Security and Tenants Action Group, said it was a very small victory for islanders.
He said: "It is a token victory for bringing rents down or maintaining the existing level which is outrageously high anyway.
"It doesn't affect the aspiration of the housing department or the vast majority of housing in the private sector where anything goes and you can charge as much as you like."
The housing minister's 30-year housing transformation programme also included setting up a strategic housing unit, creating an independent regulator and establishing a States-owned housing company.
Deputy Geoff Southern raised concerns during the debate about "massive rent hikes" for States tenants.
Deputy Green said: "The income support bill will go up, but the cost of supporting people in social housing will be where it belongs and not at the expense of maintenance.
"When I first became housing minister we had about £80m of outstanding maintenance and little investment in new homes. That is not right and that was because we were subsidising the rents by not doing the maintenance."