Man found dead in Victoria Cottage Homes fire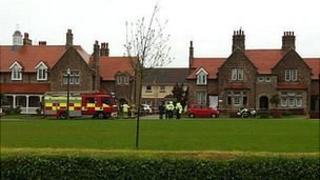 A man in his 80s was found dead by firefighters as they tackled a blaze at an elderly housing complex in Jersey.
The fire in a lounge at Victoria Cottage Homes in St Saviour was "quickly extinguished" after the alarm was raised at about 07:00 BST.
Fire investigators confirmed an electrical fault within a lamp in the lounge caused the fire.
Station Commander Marc Le Cornu said it highlighted the need for people to get any faulty electrical items checked.
"Faulty electrical items generally show signs of potential problems such as flickering lights, smell of burning, arcing and staining to plugs and sockets.
"Therefore we would advise people to get these checked by a qualified electrician," he said.
Mr Le Cornu said it was not yet known if the fire had caused the man's death, and a coroner's inquest would be held in the next few days.
He said: "This tragic loss of life due to fire is thankfully rare in Jersey and is the first fire related death for five years."
Jersey's Housing Minister, Deputy Andrew Green, said: "We are all very saddened to hear that one of the residents at the Victoria Cottage Homes has died this morning.
"Our immediate thoughts are with the family of the deceased and the other residents at the Cottage Homes.
"Officers from my department are on site to assist in any way they can."