Jersey charity pays for children's cancer nurse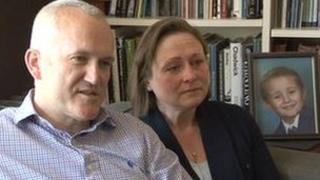 A Jersey charity set up in memory of a seven-year-old boy who died of a brain tumour has paid for a specialist children's cancer nurse.
The Antoine Trust was set up by Paul and Anne Willing, in memory of their son, who died two years after being diagnosed with a brain tumour.
The charity has raised enough money to pay for an oncology nurse based in Jersey for three years.
Anne Willing said it was a positive way to remember her son who died last year.
She said: "Nobody can describe what it's like to lose a child.
"But to go through the years of treatment... the uncertainty and, to be honest, the misery of going through that process is something you just can't describe.
"So anything that can be done to alleviate that and improve the level of care for both the children and their families is something that we're very keen to explore."
'Very proud'
The specialist children's cancer nurse, Therese McGrath, will be based on Robin Ward at Jersey's General Hospital but will liaise with patients, families and other hospitals.
She said: "Primarily, a lot of the care is done in the UK, so it's important to bridge that gap between us here in Jersey and the UK, and develop close working and professional relationships between the two centres.
"Then at least, when the families are going over, they have got names, they have got points of contact, they have got references."
Mrs Willing added: "When we set up The Antoine Trust, nine months ago, we were hoping to raise public awareness of the difficulties of dealing with children with cancer.
"We had not anticipated the response to our appeal would be quite so overwhelming, and Antoine would have been so very proud of what has been achieved in his name."