Jersey's health department offers measles immunisation
9 May 2013

From the section

Jersey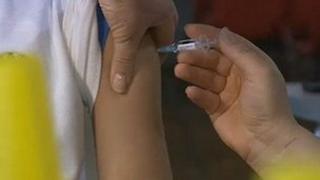 Measles immunisation is to be offered for school age children in Jersey, following an epidemic in the UK.
More than 1,000 cases have been reported in the south of Wales and hundreds in the north of England.
A free measles, mumps and rubella (MMR) immunisation clinic will be held at the General Hospital between 10:00 and 12:00 BST on Saturday.
Children require two doses to be fully immunised. These are usually given at 12 months and three years.
Concerns over the safety of the MMR vaccine, voiced a decade ago, prompted some parents to forego these doses for their children.
Dr Linda Diggle, Jersey's head of healthcare programmes, said: ""Uptake of the MMR vaccine in Jersey plummeted in the years between 2002 and 2005 and these children are now 10 to 13."
The measles virus is extremely infectious and potentially fatal.
The public health team at the Health and Social Services Department has written to parents of children in school years five to eight, whose records show they have not received both doses.
Parents who attend the clinic have been asked to take their child's Red Book, which acts as a log for all immunisations.
No appointments are necessary but the clinic is not available for adults.