French fisherman fined in Jersey for not having permit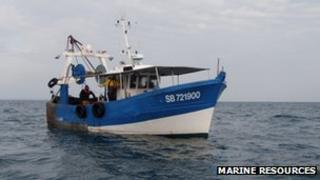 A French fisherman has been fined £2,600 by Jersey Magistrate's Court for not having a valid permit to fish.
Olivier Blanchet, the owner skipper of the Brittany registered Le Cobbe, was fined for scallop dredging in the Granville Bay area.
He was also fined for inaccurately recording his fishing in his logbook.
A spokesman for Marine Resources at the environment department said the prosecution had highlighted the need for fishermen to check their permits.
Fisheries protection officers spotted Le Cobbe at sea and found about 1,200kg of scallops on board, but the vessel did not have a current permit.
'Correct zones'
Mike Smith, assistant director at the department, said: "Fisherman need to make sure that they have the correct permits in place to fish within the Granville Bay Area and the Jersey Territorial Sea.
"It is also very important that vessels fishing logs record the correct zones so that both the Jersey and French authorities know what is being caught in different areas and in what quantity."
Mr Smith added more accurate zone recording was introduced into both French and Jersey law after recommendations from fishermen from Brittany, Normandy and Jersey.
He said the data is used to check stocks and ensure the sustainability of the fishery.