Jersey strengthens French links by signing letter of intent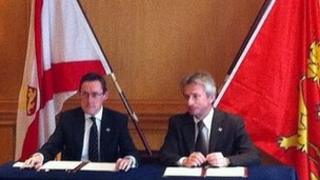 Links between Jersey and France have been strengthened by the signing of a letter of intent, Jersey's Chief Minister hopes.
It agrees they will build a framework for exchanges and co-operation.
Officials from Lower Normandy in France are in Jersey to develop business and cultural ties.
A States spokesman said plans for a marine park in the Bay of St Malo, renewable energy and sharing culture and heritage had also been discussed.
The President of the Regional Council of Lower Normandy, Laurent Beauvais, and Jersey's Chief Minister, Senator Ian Gorst, signed the letter of intent.
Senator Gorst said: "It is important that we continue to strengthen our relationships with our French neighbours, both at regional and national levels.
"By maintaining close working ties with our neighbouring regions and departments, we are addressing common issues and points of interest at a local level, while also reinforcing our relationship with the French Government as a whole."