Jersey Dean leads States prayers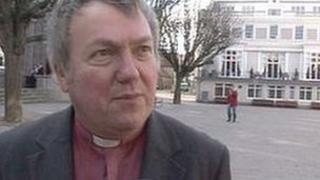 Jersey's Dean led prayers in the States for the first time since his suspension in March and was welcomed back by politicians.
The Very Reverend Bob Key was re-instated by the Bishop of Winchester on Sunday.
He was suspended over his handling of an allegation of abuse against a church warden, and has since apologised.
The Bailiff said it had been a difficult couple of months for the Anglican Church.
Sir Michael Birt said: "It is excellent to hear that the Bishop and Dean will be working together to address some of the issues that have been identified."
The original complaint made to the church in 2008 concerned the alleged abusive behaviour of a churchwarden.
The States of Jersey Police and Hampshire Constabulary investigated the allegations at the time but found there was insufficient evidence to proceed.
The Bishop of Winchester has since launched a new investigation, led by former bishop John Gladwin, to review the implementation of safeguarding in Jersey and across the diocese.
Dean Key said: "I regret mistakes that I made in the safeguarding processes and I understand that, upon reflection, it would have been more helpful if I had co-operated more fully with the [safeguarding review]."