Jersey votes for option B in reform referendum
24 April 2013

From the section

Jersey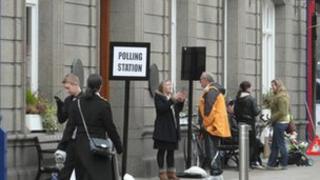 Polls have closed for Jersey's referendum on electoral reform.
The referendum asks islanders how many politicians they want in the States, how they will be elected and what the size of constituencies should be.
Polls closed at 20:00 BST and the votes are being counted at one central location in each parish, either the Parish, Public or Town Hall.
Jurats in each parish announced the result at each parish count.