Orangutan born at Jersey's Durrell wildlife park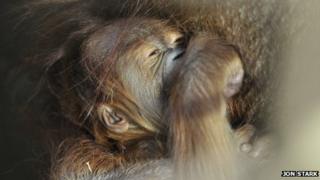 A Sumatran orangutan is the first of its kind to be born at Jersey's Durrell wildlife park in eight years.
A spokesman from the park said the mother, 30-year-old Anette, and her son Jantho were both doing well.
He said the team were "caught slightly unawares" as they were not expecting the birth for another week.
A second orangutan, 25-year-old Dana, is also expecting and is due to give birth sometime in May. Both babies were fathered by 27-year-old Dagu.
Gordon Hunt, deputy head of mammals at Durrell, said: "She pulled the ultimate April Fool and has given birth two weeks early.
"We wanted to make sure everything was fine with the youngster, but [the mother] was very protective of her baby initially, but she is fine."
The last orangutan born at Durrell was born by caesarean, but the last by natural birth was 13 years ago.